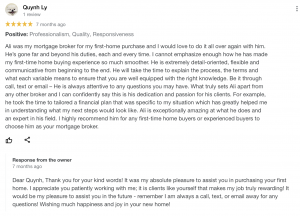 "Ali was my mortgage broker for my first-home purchase and I would love to do it all over again with him. He's gone far and beyond his duties, each and every time. I cannot emphasize enough how he has made my first-time home buying experience so much smoother. He is extremely detail-oriented, flexible and communicative from beginning to the end. He will take the time to explain the process, the terms and what each variable means to ensure that you are well equipped with the right knowledge. Be it through call, text or email – He is always attentive to any questions you may have. What truly sets Ali apart from any other broker and I can confidently say this is his dedication and passion for his clients. For example, he took the time to tailored a financial plan that was specific to my situation which has greatly helped me in understanding what my next steps would look like. Ali is exceptionally amazing at what he does and an expert in his field. I highly recommend him for any first-time home buyers or experienced buyers to choose him as your mortgage broker."
=====================================================================
At Dominion Lending Centres we have worked to create an exclusive in-house line up of mortgage products that will meet the needs of most Canadians. There are generally two ways to get a mortgage in Canada: From a bank or from a licensed mortgage professional.
While a bank only offers the products from their particular institution, licensed mortgage professionals send millions of dollars in mortgage business each year to Canada's largest banks, credit unions, trust companies, and financial institutions; offering their clients more choice, and access to hundreds of mortgage products! As a result, clients benefit from the trust, confidence, and security of knowing they are getting the best mortgage for their needs.
Whether you're purchasing a home for the first time, taking out equity from your home for investment or pleasure, or your current mortgage is simply up for renewal, it's important that you are making an educated buying decision with professional unbiased advice.
Have questions or comments about the services we offer? Contact us here.
Ready to start your mortgage application? Apply here.
Address
1796 Bloor Street W
Toronto, ON
M6P 3K5, Canada